The topic of railings brings up terms like "balusters", "post caps" and "face mount". You might be thinking "what are those?". We get it. This guide will address all the terms you need to know when it comes to the components of a railing thus removing some confusion around the topic.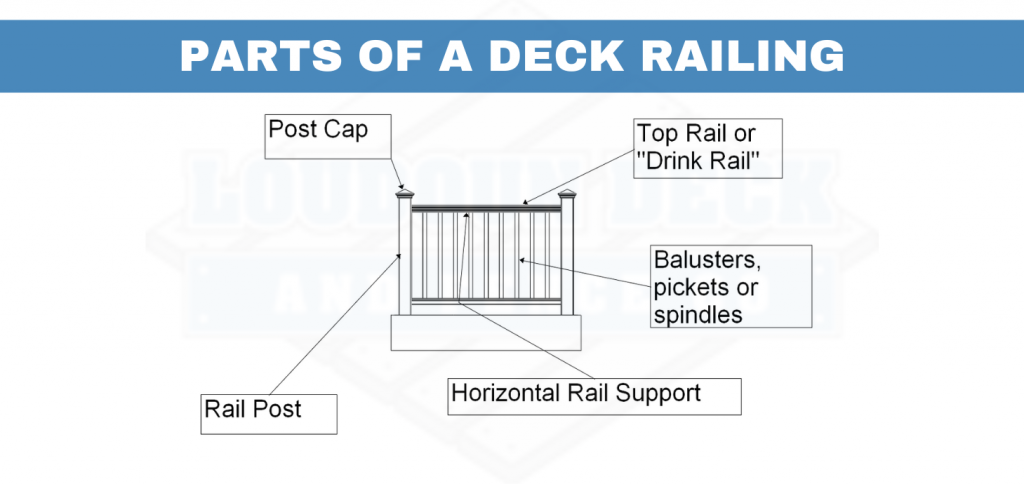 Typical railings have five main parts; rail posts, horizontal rail supports, balusters, rail post caps, and the top rail. See the picture diagram above explaining where each part of the railing is located. Below you will find more information about each individual part of the deck railing.
The next sections will address each portion of the railing components in more depth.
Rail Posts
The purpose of the rail posts is to attach the rails to the deck. The typical rail post is a 4" x 4" inch post. White and Black are the main colors available for the low maintenance or composite materials. 
Horizontal Rail Supports
Their main function is to hold the pickets or balusters in place, they are attached to the rail posts. These need to be made of sturdy material to avoid sagging between posts.
Balusters (Pickets, Spindles)
Balusters are typically installed vertically. Code requires 4 inches or less spacing in between each baluster. Balusters are also commonly known as pickets or spindles. They provide structural safety to the railings on the deck. They attach between the two horizontal rail supports.
Rail Post Caps
Post caps are placed on the rail posts. Rail post caps are optional. They serve a decorative purpose only. If you choose to have no post caps you may need to install a top rail to cover the top of the rail posts to give it a finished look. Some railing types also include rail post base trim pieces to give the railing a more finished look.
Top Rail (Drink Rail)
The top rail is installed on the top of the horizontal rail support. A top rail is typically the same material as the deck flooring and provides a flat surface. The top rail, depending on the rail material, is required or optional.
Although fascia and trim are not technically part of the railing system they are worth mentioning here since it typically coordinates with the railing colors and materials.
Fascia and Trim
The Fascia is the outermost board of the deck that trims out the framing of the deck and covers the ends of the floorboards or stair stringers. In most cases customers choose to have the fascia and trim match the railing and/or floor of the deck. With Wood and Hybrid decks the Trim and fascia are typically made from pressure treated wood. With full composite decks the fascia and trim are typically made from low maintenance PVC trim or composite materials.