When you decide to add a deck to your home, let's be honest, it's overwhelming. Most homeowners find themselves asking "how do I even know what I want?". This question is common because the more you research about decks the more options you find. The reason for this is that most decks that are built are considered "custom" because they contain custom measurements, combinations of materials and custom "add ons". When everything is "custom" how do you decide what you want? Here at Loudoun Deck and Fence, we categorize decks into three categories that share similar features and price points. This categorization greatly simplifies the choosing process. The purpose of this blog is to help explain the three categories of decks and help simplify the pros and cons of each type to help you as the customer choose which type will work best for your situation.
The categories are as follows; a traditional wood deck, a hybrid deck and a composite deck.
Traditional Wood Deck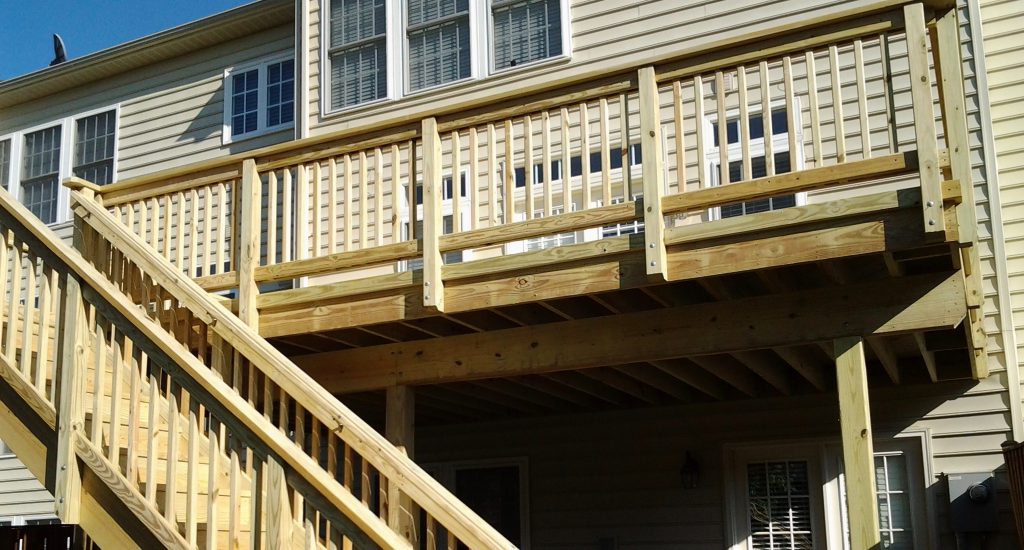 Traditional wood decks are made from pressure treated wood. Pressure treated wood is wood that has been treated with specific chemicals to help slow the process of deterioration and decay. The wood is still a natural material and is subject to splintering, splitting, warping and eventually rotting. On a traditional wood deck, it is recommended to stain and seal every 1-3 years depending on the sun and water exposure. This helps to preserve the look and longevity of the wood. The higher the sun and water exposure the more often it will need to be sealed/stained. The cost and maintenance should be taken into account when contemplating the desired material for your deck. This type of decking is the least expensive. A traditional wood deck is a great option and typically lasts about 15-20 years before needing to be replaced.
Hybrid Deck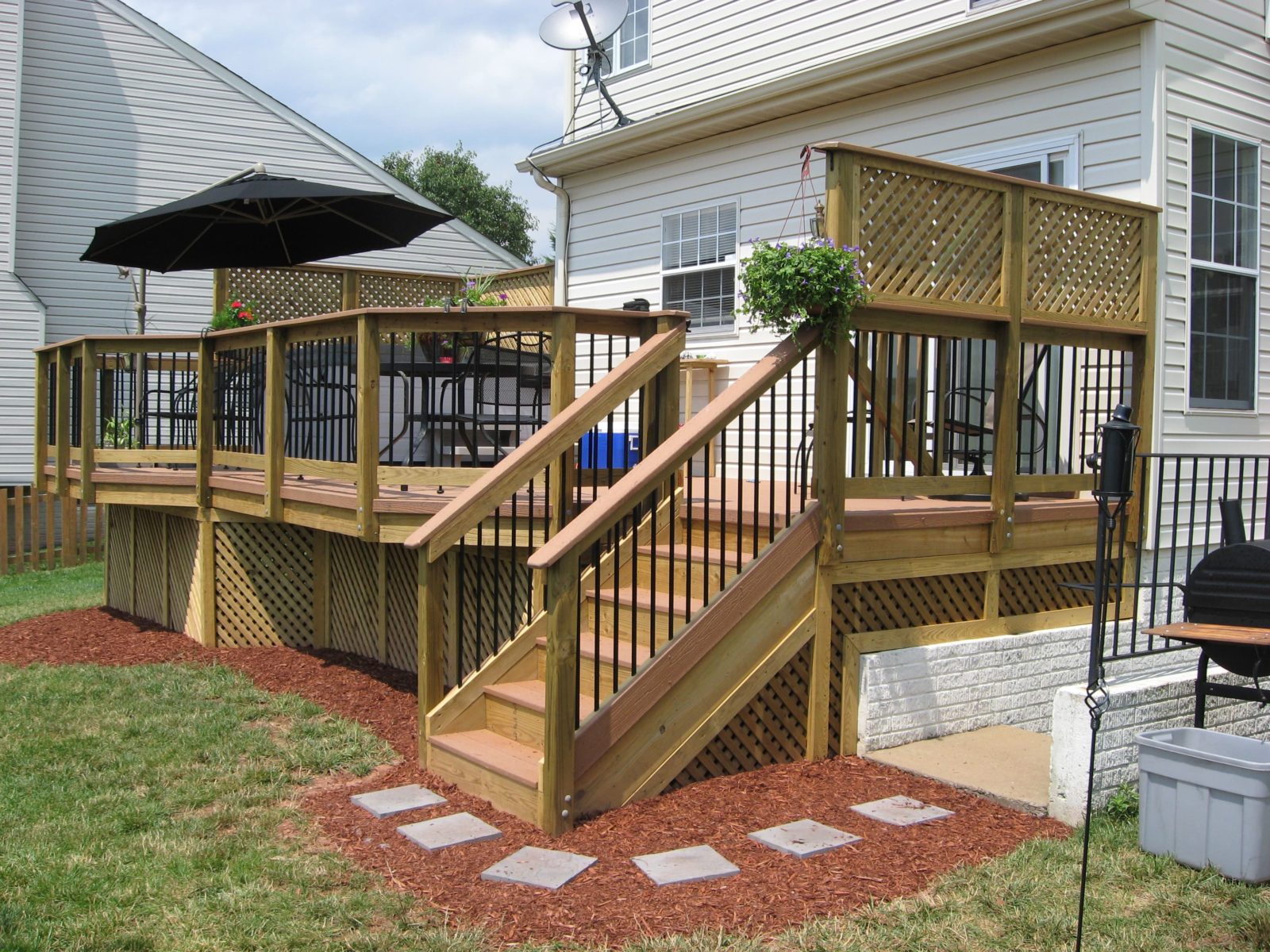 A hybrid deck is a deck built with both pressure treated wood and a composite material. Composite material (link) is a mix of plastic, wood fibers and chemical additives. Composite material is known for its high durability and great resistance to sun and water exposure. Typically the composite material is installed on the flooring and at the top of the railings. Those are the places that sun and water exposure occurs the most. By replacing the flooring and top railings of the deck with composite material, it almost eliminates the need for maintenance on the deck. Hybrid decks are in the middle on cost, they are typically about 20% more expensive upfront than a traditional wood deck but when you take into account the lower maintenance and lifespan it may be cheaper long term. A hybrid deck typically lasts about 20-25 years before needing to be replaced.
Composite Deck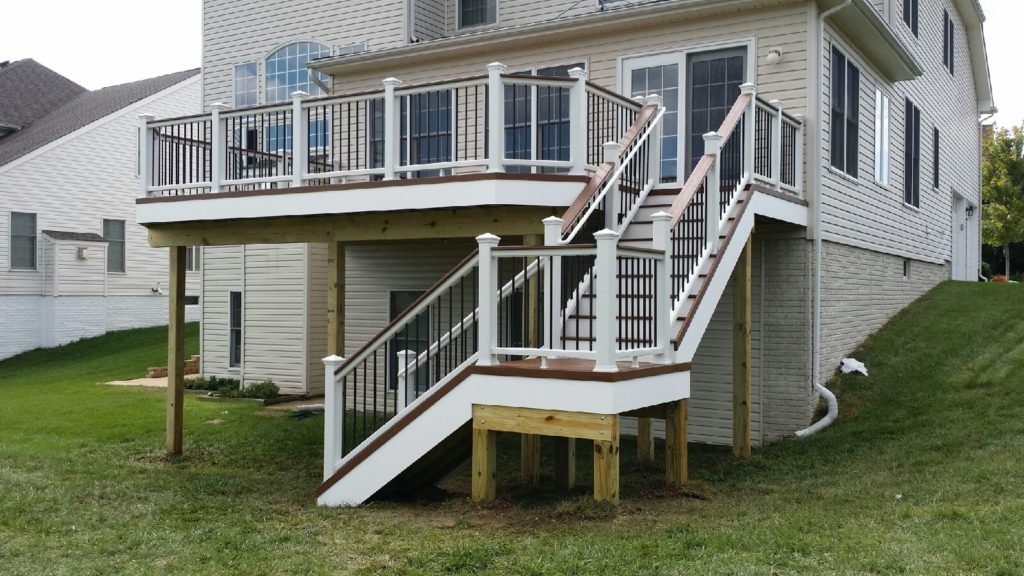 A full composite deck is built with all composite material with the expectation of the framing/supporting structure which is built with pressure treated wood. There are two main reasons that people choose to build full composite decks. The first is because of the low maintenance of the material. The second is because of the aesthetic. Full composite decks are low maintenance because modern composite material is extremely durable and is resistant to wear and tear from sun and water exposure. Maintenance for this deck is minimal. Full composite decks only require the occasional wash with water and maybe a light soap. Full composite decks are aesthetically pleasing because of things like hidden fasteners and other best practices used on them. A composite deck will typically last 20-25 years before needing to be replaced. A full composite deck is typically the most expensive upfront. It is usually about 40% more than a traditional wood deck and 25% more than a hybrid deck. There are lots of different factors to consider when choosing a composite deck, for more information read our blog entitled "why composite decking?"
Cost of Maintaining Different Decks Over Time
One thing that dissuades homeowners from upgrading their deck flooring or rails to a composite material is the upfront cost, but over the life of the deck, the composite materials end up being cheaper than the pressure treated wood options. As a general rule the decks go up about 20-25% with each step. Meaning if you start at your traditional wood deck it will typically jump about 20-25% in price to the hybrid deck and another 20-25% when you upgrade to a full composite. There is more to consider than just the initial cost of building the deck. One of the main things that people neglect to factor into building a deck is the cost of maintenance overtime. Restaining and resealing is recommended every 1-3 years on a traditional wood deck. Restaining and resealing typically costs between 10-20% of the cost of the deck. It is important to factor this in.
If you are good at math you have probably already figured out that at some point the traditional wood deck costs more than the hybrid or composite deck. Depending on how long you plan to own the property, after you factor in the maintenance costs, you may decide to go with a hybrid or composite deck and enjoy the lower maintenance and better aesthetic of those higher end decks instead of going with the initially cheaper traditional wood deck. It is for this reason that a hybrid deck is an attractive option. A hybrid deck is the middle ground on both cost and maintenance.
Common Custom Add Ons
What are "add ons"? As mentioned above, many homeowners are left in the dark about custom options that they could "add on" to their deck. "Add on's" are simply custom features that can be added onto any deck type. Listed below are some of the most common add ons.
Aluminum Railings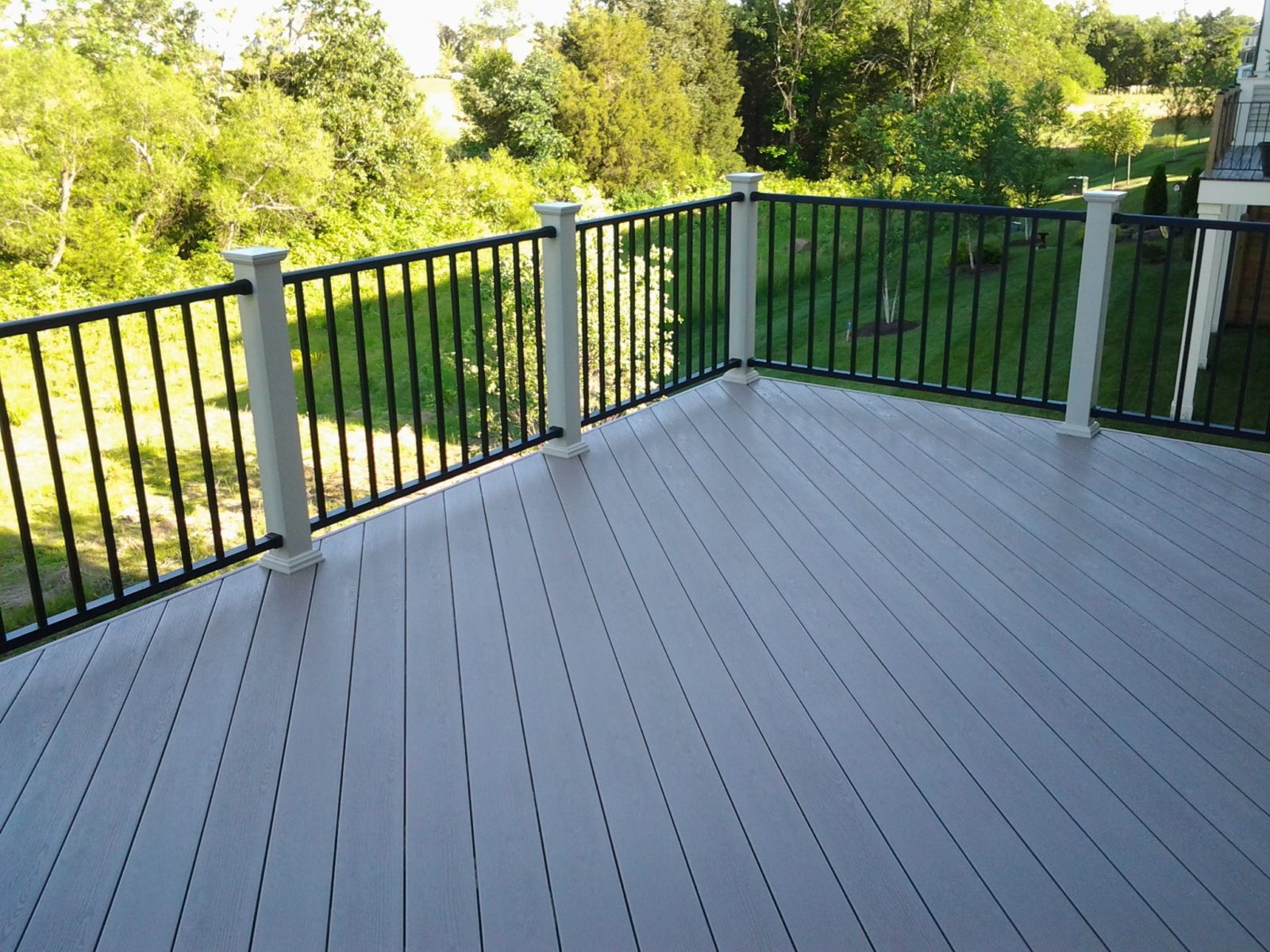 Aluminum railings are typically used on full composite decks. They create a seamless view off of the deck and are most commonly used when the customer wishes to preserve their view. Aluminum railings are a great low maintenance railing option.
Custom Deck Framing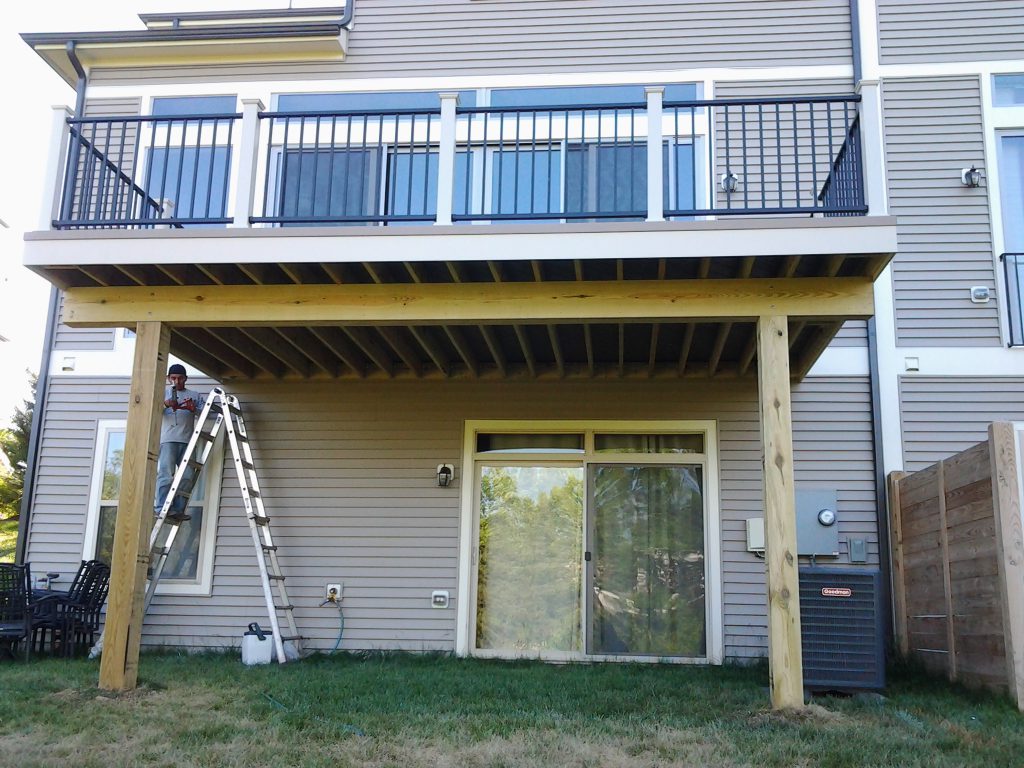 One thing that customers with existing decks complain about is support posts impending space or views beneath their deck. This is frustrating for clients who wish to use the space below their deck. Here at LD&F we have the option of designing custom framing that allows us to move posts out of desired areas thus increasing the usable space below the deck. This is a popular feature with many of our clients.
Deck Skirting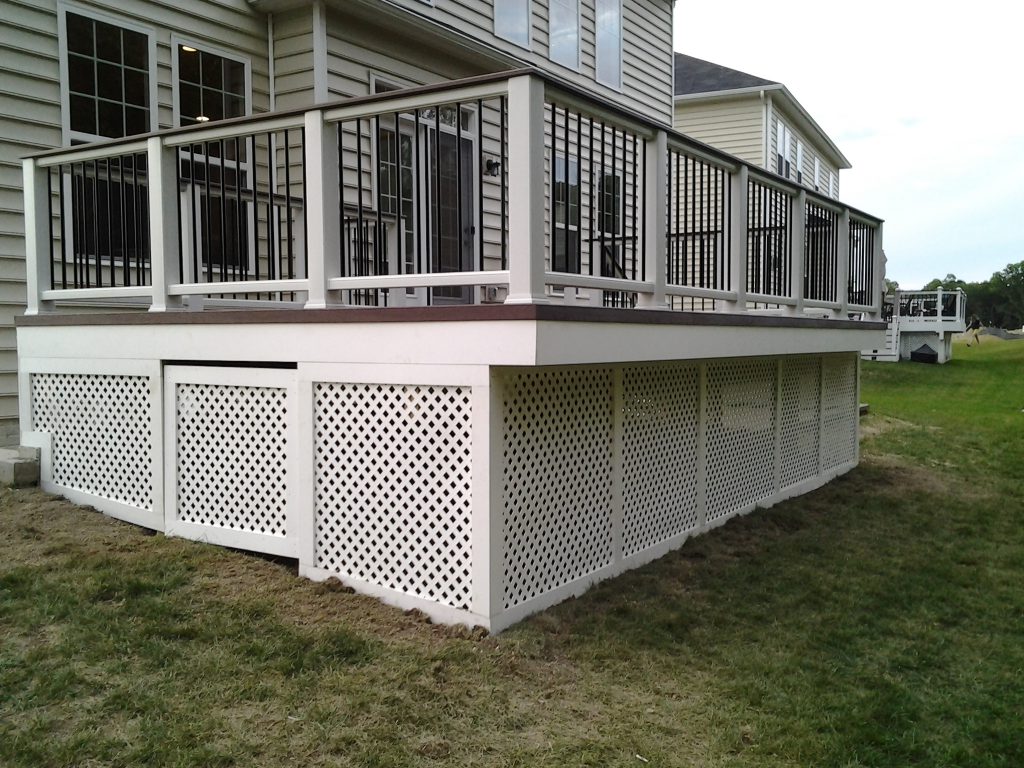 Deck skirting is used around the base of the deck. Customers often use it to dress up the aesthetic of their deck. This add on can be used on any of the three types of decks.
Gravel Underneath the Deck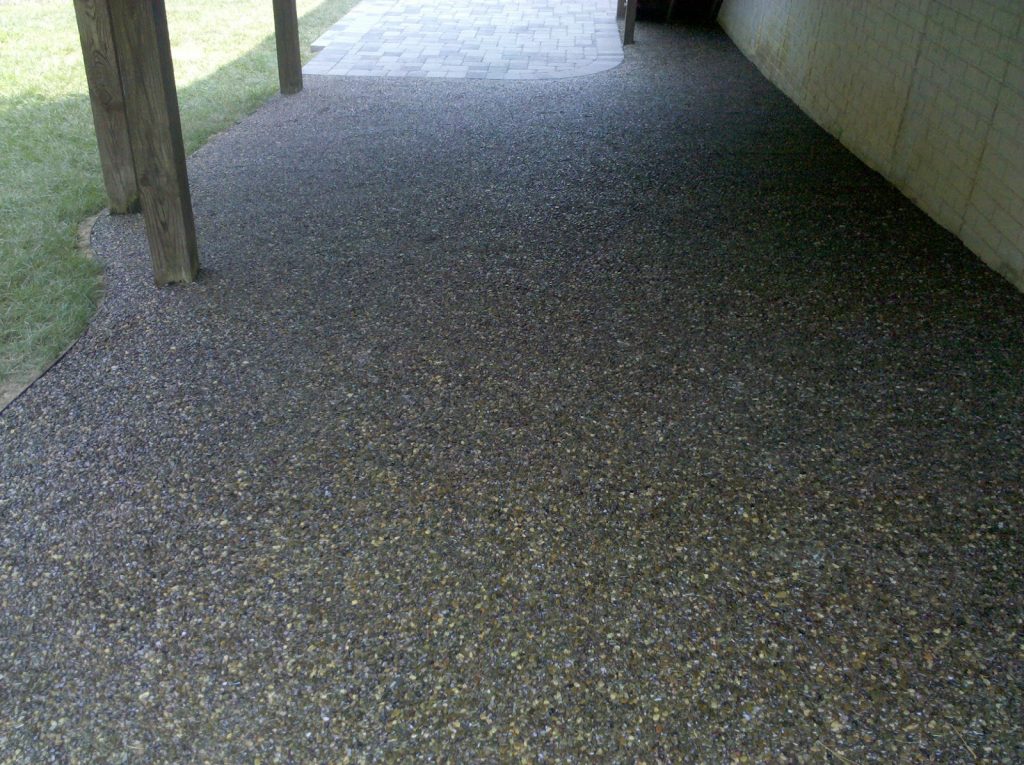 Placing gravel underneath a deck is a popular option for individuals who want to avoid having a muddy space underneath their deck. This feature is great for clients who have kids or pets and do not want to install a full patio below the deck.
Lights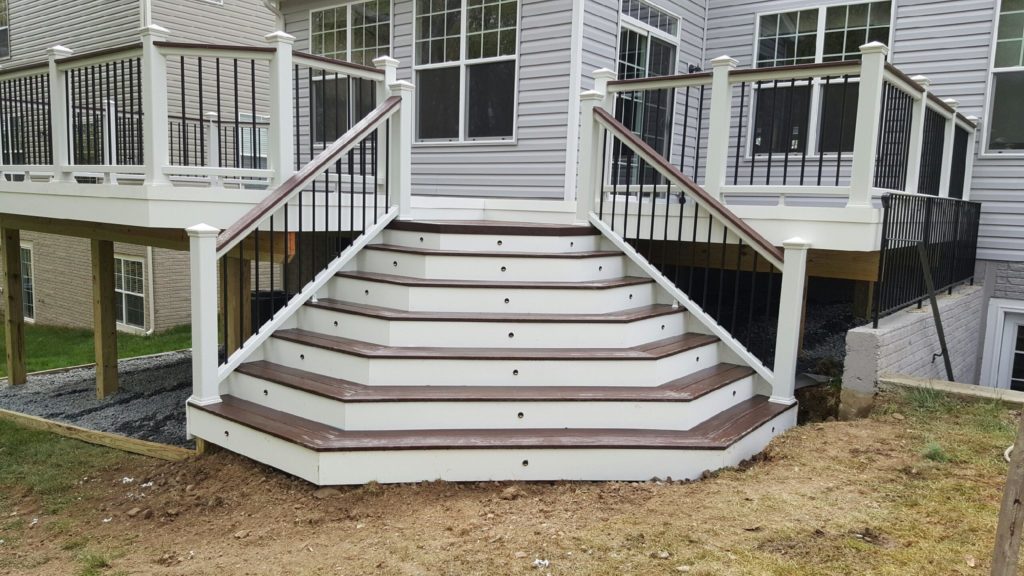 Low voltage lights are a popular option that people enjoy adding on to their deck. They are most commonly installed on hybrid and composite decks. Clients enjoy them because they add a luxurious feel. In addition to luxury, the lights add safety because of the increase in visibility. It is for this reason that lights for small children and pets are a great benefit.
Pergola/Plant Hanger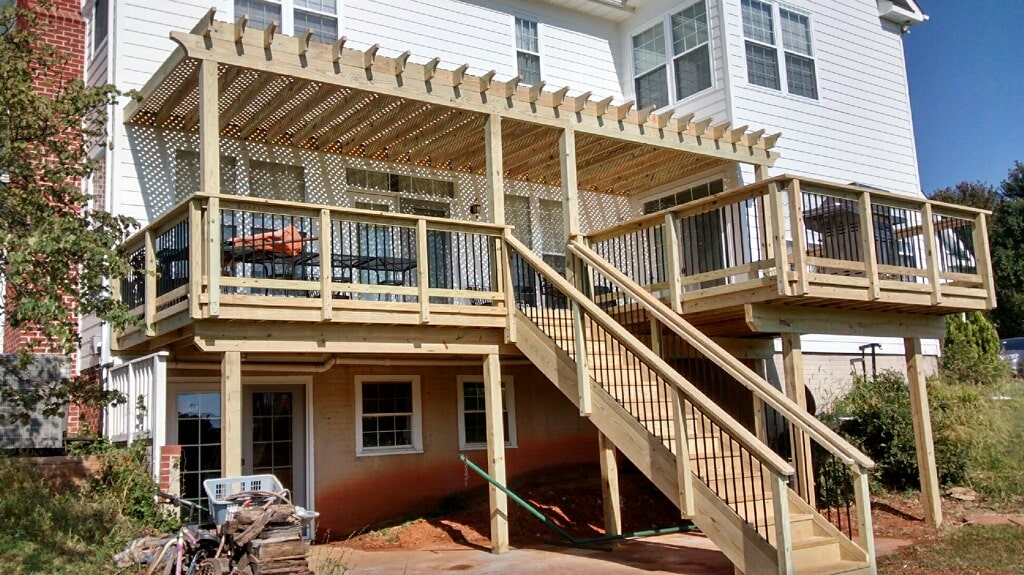 A pergola/plant hanger can be done with any material. They are most common on traditional wood decks or on hybrid decks.
Privacy Lattice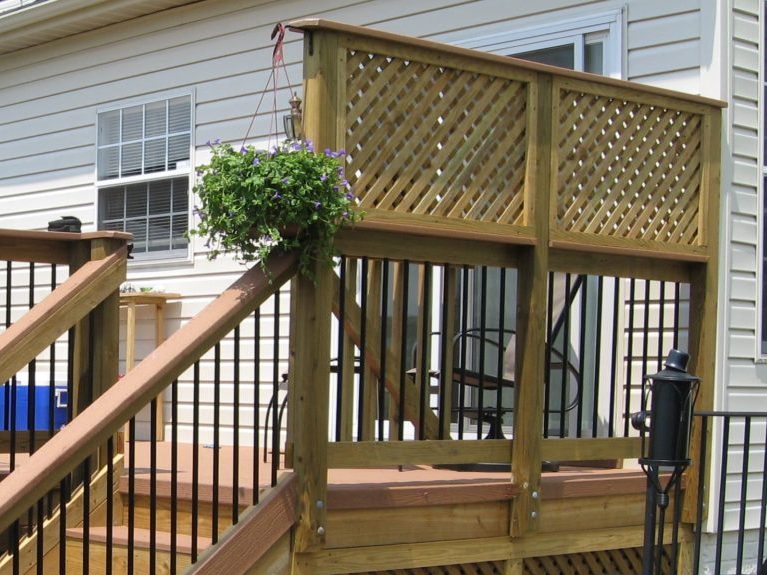 Privacy lattice is a popular option for those wishing to gain some privacy from their neighbors. This technique is often used on traditional wood decks and hybrid decks.
Rain Catch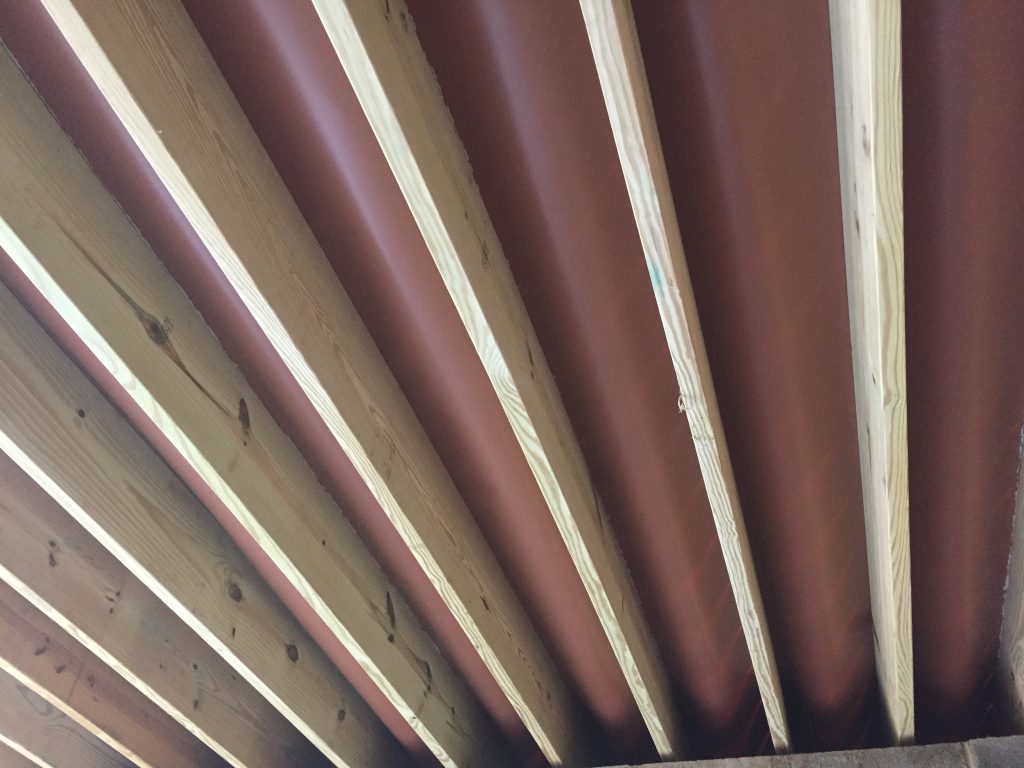 Rain catch systems keep the underneath the deck dry and direct the rain away from the base structure of the deck. This is a popular option for many people who want to finish the space underneath their deck. This system can be used on any of the three types of decks.
Screened In Porch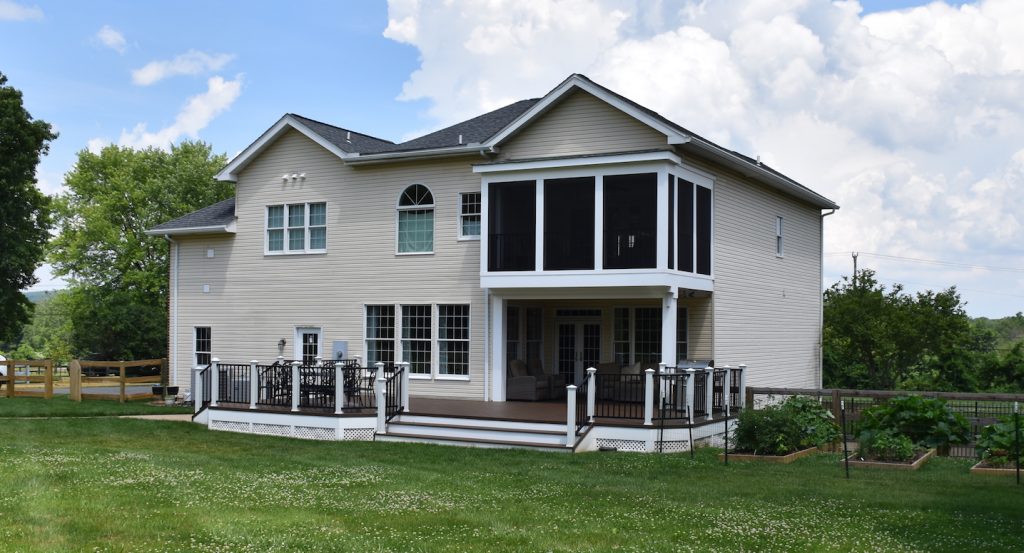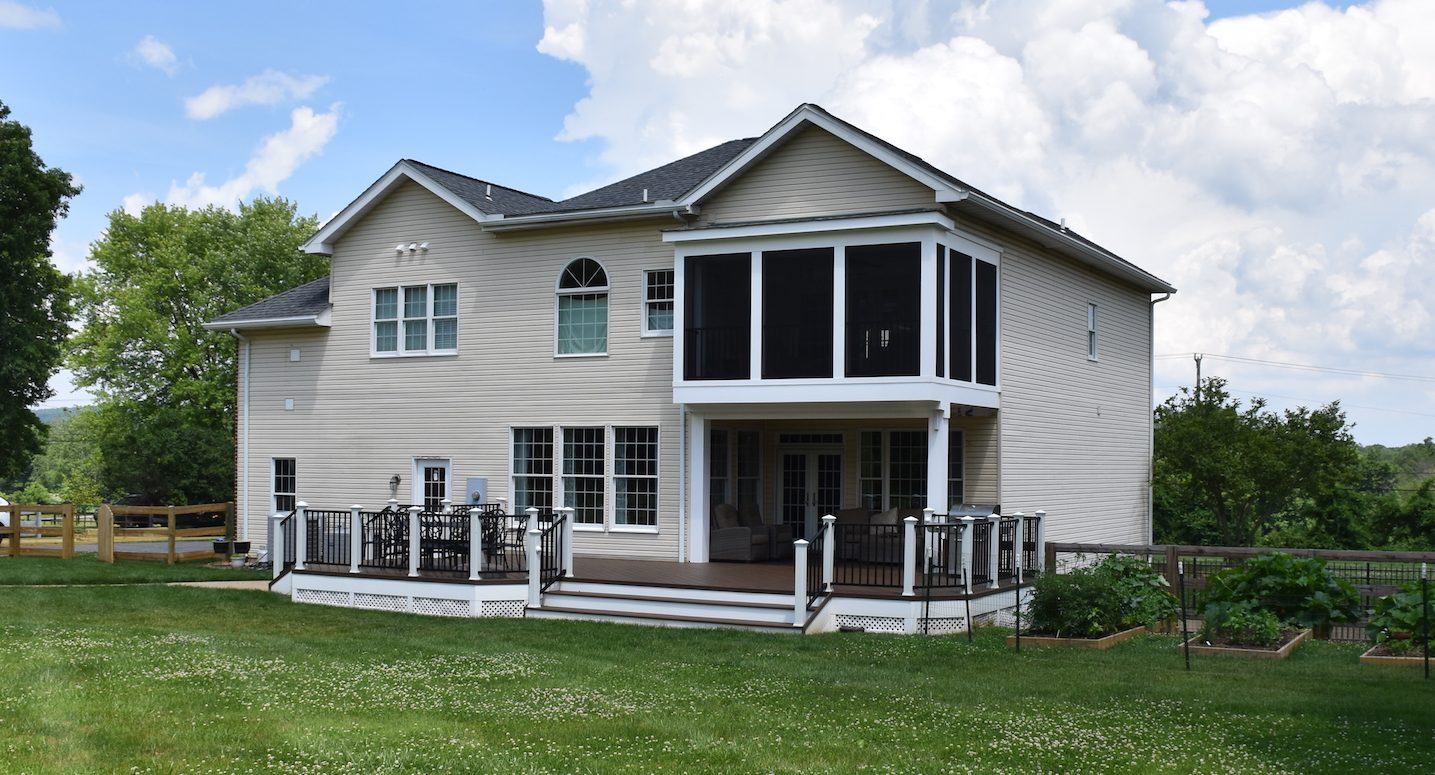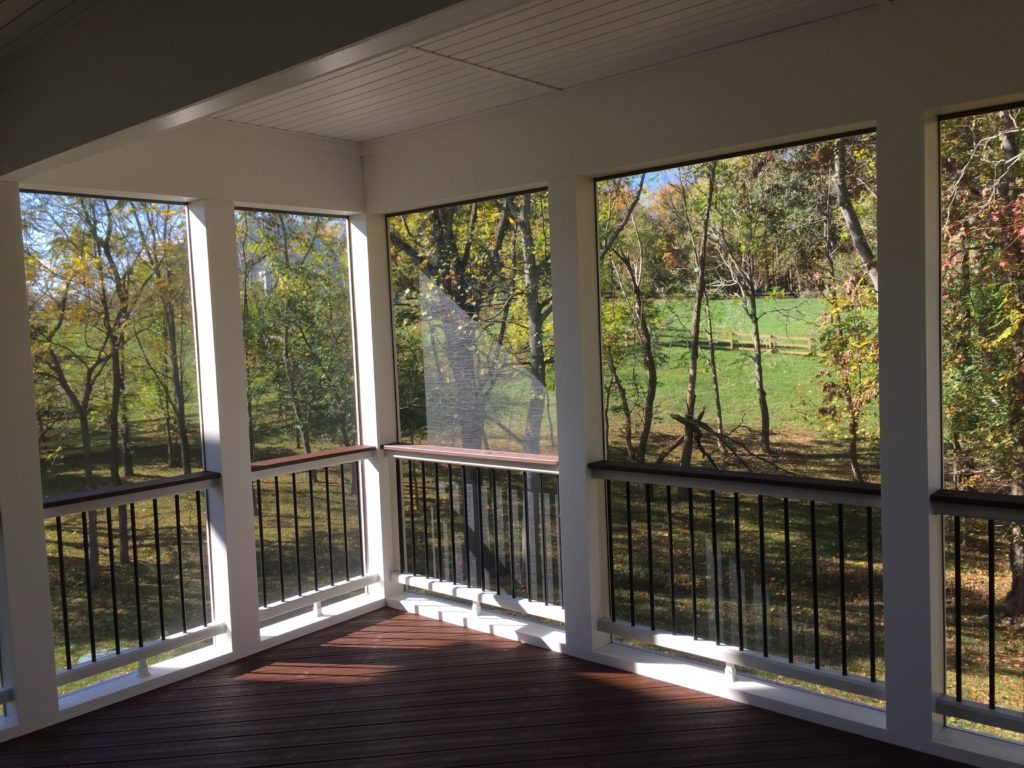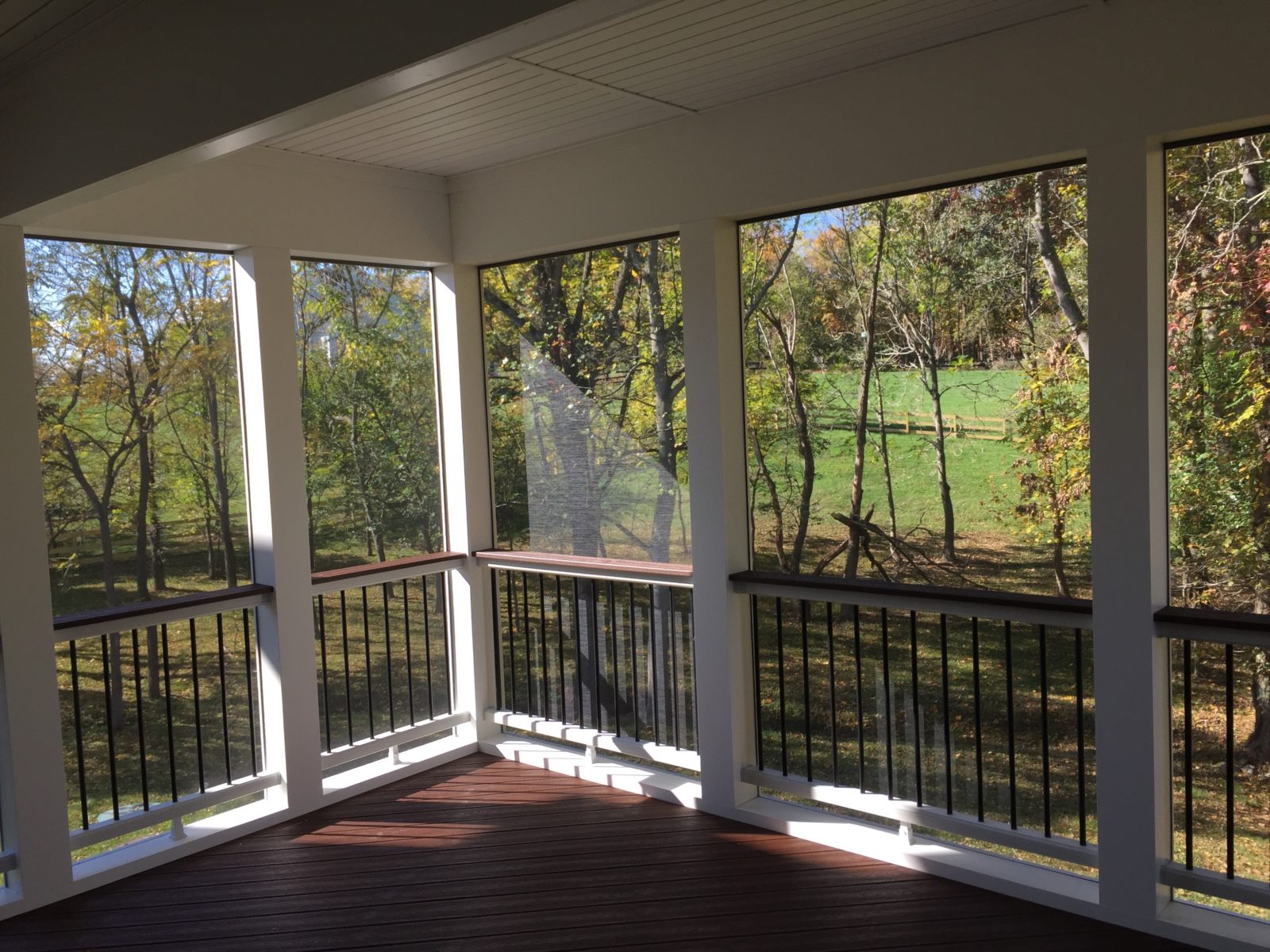 Because of the high price of Screened in Porches people typically add them onto full composite decks. They are a great way to enjoy your outdoor space with a feeling of luxury and comfort. Screened in porches even helps with bugs. Many of our customers even install ceiling fans to help add air flow and comfortability to their enclosed space.
Wrapping Support Posts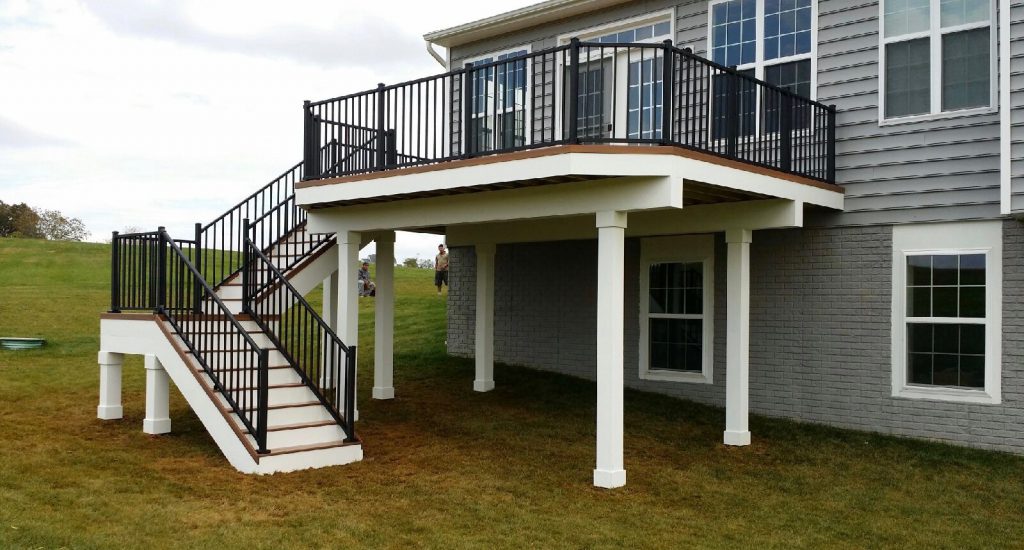 This is typically done on composite decks. The supporting posts are wrapped in white PVC thus extending the aesthetic of the "composite look" to the entire deck.